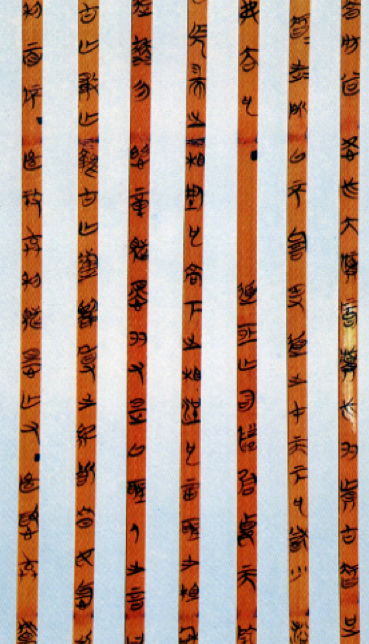 Research
My work cuts across the fields of literature, philology, history, religion, and art in ancient China, with a focus on poetry and poetic speech, broadly conceived.
Studying the composition, reception, and canonization of early literature, I am interested in textual performances and their function in the formation of ancient cultural memory; early Chinese rhetoric; the presence, absence, construction, and meaning of the authorial voice; and the origins and development of the intellectual and social system of ancient Chinese textuality. These themes lead further into questions about the interactions between writing and orality, phenomena of composite texts and textual repertoires, and the materiality of text.
One major field of my study is ancient Chinese poetry, its theory, aesthetics, and hermeneutic practices, especially with respect to the Classic of Poetry 詩經 and the Lyrics from Chu 楚辭. With the Classic of Poetry, I pay particular attention to newly discovered manuscripts from antiquity that help us rethink the fundamentals of the Chinese poetic tradition.
While I focus on the close philological study of ancient Chinese texts in their historical contexts, such analysis gains both depth and clarity from theoretical and comparative perspectives, and furthermore from the regular interaction with specialists in other fields. Thus, at Princeton I have directed "Comparative Antiquity: A Humanities Council Global Initiative" (2018-2022), a university-wide program with colleagues and students from various departments across the humanities. At Renmin University of China (Beijing), I direct the International Center for the Study of Ancient Text Cultures 古代文本文化國際研究中心, likewise a platform for comparative and intercultural academic exchange. In these contexts, I further pursue questions of China's place in global antiquity, issues in world literature and translation, and the challenges, tensions, and opportunities within and between Chinese and international approaches to ancient China.
Among various other duties, I co-edit the preeminent sinological journal T'oung Pao, the monograph series Studies in the History of Chinese Texts, and the reference work series Handbook of Oriental Studies: Section 4 China.
Current Book Projects
Biaoyan yu chanshi: Zaoqi Zhongguo shixue yanjiu 表演與闡釋:早期中國詩學研究 [Performance and Interpretation: Studies in Early Chinese Poetics]. Beijing: Sanlian Publishers, 2023, forthcoming.

Early Chinese Historiography: Zuozhuan in Comparative Perspective, co-edited with Yuri Pines and Nino Luraghi. Under review.

Qu Yuan and the Chuci: New Approaches, co-edited with Stephen Owen. Under review.

The King's Voice: Royal Speech and Inscription in the Ancient World, co-edited with Nino Luraghi. In preparation.

The Classic of Poetry in Excavated Manuscripts. In preparation.

Wenben yu wenhua jiyi: Zaoqi Zhongguo shuxie yu yishi yanjiu 文本與文化記憶:早期中國書寫和儀式研究 [Text and Cultural Memory: Studies in Early Chinese Writing and Ritual]. Beijing: Sanlian Publishers. In preparation.

Philological Practices: A Comparative Historical Lexicon, co-edited with Anne Eusterschulte and Glenn W. Most. Princeton: Princeton University Press. In preparation.

Performance, Memory, and Authorship in Ancient China: The Formation of the Poetic Tradition. Princeton: Princeton University Press.
Books